20 Amazing STEM Gifts for 2016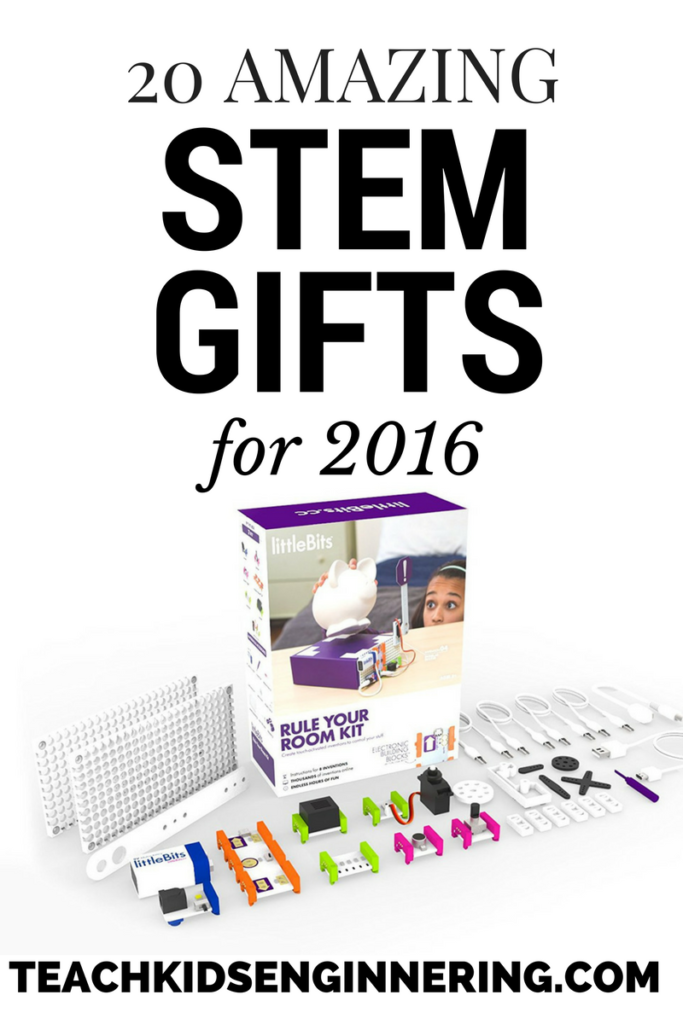 Looking for that perfect present for Christmas to inspire STEM learning? We've researched and compiled a list of some of our favorite STEM gifts for 2016.
Ozobot Programmable Robot Starter Pack
Ozobot Programmable Robot Starter Pack
The Ozobot is a highly acclaimed by teachers and parents and was the winner of the "Best Robot" award at the 2015 Consumer Electronics Show and 2014 International Toy Fair). From the online videos, it looks to be a fantastic way to teach basic programming concepts using different color marks. Check out this very thorough video review from Dad Does. The Ozobot is very reasonably priced at around $50.
LEGO Mindstorms EV3
This is by far our most used STEM toy around our house. We've created many fun projects this past year – a Dancing Robot, a Basketball Player Robot, and a Speedcuber Alarm Clock. Currently we're working on building a music box using the LEGO Mindstorms set. There are so many amazing projects you can download from other users in addition to the great projects from LEGO.
It is a little pricy at $350, but we think there is no better product out there for teaching kids about robotics.
Dash and Dot Robot Pack
Another popular robot set that are a great way to teach kids about programming in a very engaging way. These robots can be programmed with an Ipad or Android tablet and are recommended for children as young as 5 years old. The programming power is similar to the LEGO Mindstorms set, but is easier to get started since you do not need to build the robots. The robots can hear sounds, detect objects, and can sense motion.
Snap Circuits
Snap Circuits makes the best kits for learning about electrical circuits. These sets come with hundreds of projects and the instructions are very easy to follow. We have the 300 piece set and have really enjoyed it. Like with many advanced STEM toys, Snap Circuits is something you want to sit down and work on together with the kids since it can be a little confusing to debug if they run into problems.
Little Bits Rule Your Room Kit
Little Bits Rule Your Room Kit
We haven't tried Little Bits yet, but I am impressed by the amazing kits they keep releasing. Little Bits is a combination of learning about electricity and creating inventions. The Little Bits Rule Your Room Kit is more affordable than some of their bigger kits and is getting great reviews.
BOSEbuild Speaker Cube
BOSE knows speakers. This kit from BOSE teaches kids how to design a Bluetooth BOSE speaker with high quality sound. Kids will learn about speaker components and how they create sound. It comes with an IOS app that guides kids through hands-on activities.
XYZprinting da Vinci mini 3D Printer
XYZprinting da Vinci mini 3D Printer
I've been excited about 3D printers since we visited the National Geographic Remote Engineering lab last year and saw how their engineers used a 3D printer to quickly prototype their ideas. They have always been way too expensive, but XYZprinting recently released one for families that is much more affordable.
I have so many project ideas that this could help with. They also have a big library of designs that kids can download and print to make some pretty cool toys.
AmScope Compound Microscope
I have been helping my son with his Life Science class this year and there are several times I wish we had a good microscope handy. There are so many things that can be a little boring to talk about, but if I can show him directly what a leaf looks like under a microscope, it is so much more engaging.
SmartLab Toys Ultimate Secret Formula Lab
SmartLab Toys Ultimate Secret Formula Lab
Looking for a really fun way to introduce kids to the world of chemistry? This kit from SmartLab Toys is a chemistry lab in a box. This looks to be an impressive chemistry set with very good reviews.
MEL Chemistry Sets
To get deeper into the world of chemistry, MEL Science offers a subscription service that send a new chemistry kit with 5 to 6 different experiments each month. This is perfect for those looking for an ongoing chemistry curriculum.
SpeedCube
We have really enjoyed getting into cubing this past year. Cubing is a great way to teach algorithms to kids and the more algorithms they learn, the faster they get. My daughter is solving hers in about 30 seconds now and I finally taught myself to solve one blindfolded (see my guide on How to Solve a Rubik's Cube Blindfolded).
The Moyu Aolong 2 is a favorite among many of the world's best speedcubers.
Shengshou Magic Cube Puzzle Set
Shengshou Magic Cube Puzzle Set
Shengshou makes a very good quality cube, and their set of 4 puzzles (2×2, 3×3, 4×4, and 5×5) is a great deal for kids who love puzzles. There are so many good resources online for them to learn how to solve each one and how to get faster.
Bloxels: Build Your Own Video Game
Bloxels: Build Your Own Video Game
Do you want to get your kids excited about programming? Bloxels is onto something really cool. Kids build the levels and characters using little blocks and capture the images using a tablet. Check out this video to see how it works.
Hape Quadrilla Wooden Marble Run
Hape Quadrilla Wooden Marble Run
This marble run construction kit uses different color blocks to perform different functions, teaching basic coding principles. This toy has won multiple awards and lots of praise for the creative problem solving it encourages.
Q-BA-MAZE 2.0: Ultimate Stunt Set
Q-BA-MAZE 2.0: Ultimate Stunt Set
The Q-BA Maze is a similar toy to the Hape Quadrilla, but a very different flavor. The plastic pieces snap together to make a very smooth marble run with very creative configurations.
Klutz LEGO Chain Reactions Craft Kit
Klutz LEGO Chain Reactions Craft Kit
Our family got this kit last year for Christmas and really enjoyed building some cool Rube Goldberg machines. See our creation here.
Thames & Kosmos Wind Power 2.0
Thames & Kosmos Wind Power 2.0
This wind power kit enables kids to build a wind power generator that can charge a battery to power their other toys. The kit includes different styles of wind turbine blades and a gearbox with three different gear ratios for experimenting.
Super Mario Maker (Wii U)
Here is a game that is different from all other Mario Games. In this game, you become the game-maker and create the levels. If your kids are interested in making their own videos games some day, this is a great way to dive in and give them creative control.
Minecraft Wii U Edition
I was nervous when we first bought the PC version of Minecraft for our kids. I was afraid it would be another mindless video game and I set down strict rules how long they could play and they are not allowed to play with others online.
I have been so impressed by their elaborate creations. In the world of Minecraft, you can create anything (think of it as an endless supply of LEGOs), Redstone circuits allow for building complex automated machines (many people have created functioning computers in their Minecraft world).
Robot Turtles Game
My youngest daughter received this innovative board game when she was five and I was impressed how she was able to pick up basic programming concepts quickly in a very fun way. Her older siblings found the game a little easy, but they love to create challenges for her to figure out. This game is great for ages 4-8 to start learning about programming concepts early.
Bonus Gift
Springfree Trampoline
This is not a STEM toy, but it is an engineering marvel. My family has been campaigning for a trampoline, and I have always been very hesitant. I hear about all of the accidents and how emergency rooms are full of kids who were injured while playing on a trampoline. This one is making me open up a little bit.
New Zealand Engineering professor, Dr. Keith Vivian Alexander set out to design the safest trampoline after studying the major impact zones of a traditional trampoline that caused injuries (the springs on the jumping surface, the steel frame, and the ground). By designing a trampoline that eliminated these three impact zones, he created what is considered the safest trampoline.
We hope you enjoyed our list of STEM gifts and have found some good ideas. Do you have ideas that you think would be great additions to the list? Feel free to comment and let us know!
Want to keep up with the latest projects and resources from Teach Kids Engineering? You can subscribe to the page and follow us on Facebook, Youtube, and Pinterest.