Create Your Own Video Game – Bloxels Review
Our 11 year old son has been busy this month building a video game. He's using Bloxels to design levels and characters using small pixel blocks along with the Bloxels tablet app.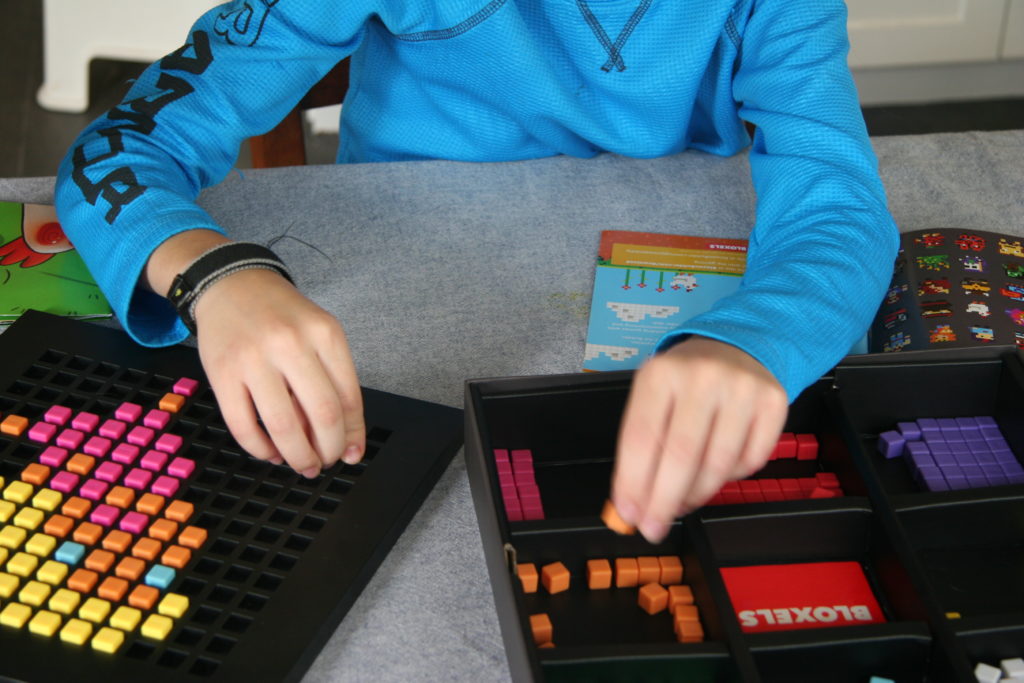 Typically, kids don't engage with most STEM toys right out of the box. Guidance is needed to help kids get started and learn the true value of these toys.  It usually takes some work to keep them engaged.
Bloxels has been an exception for us. Our son was ready to go the day he got it for Christmas and he's been working on his own without any push ever since. There were one or two technical snags at the beginning that I needed to help him through. But these were easy to work through with the help of the online video tutorials.
Creating Bloxels Characters
With Bloxels, you use the pixel board and blocks to create characters and levels. The characters are straightforward – you take pictures using the Bloxels tablet app of the characters you've created. The characters can be animated by making additional pictures of them running and jumping (3 images total).
Creating Bloxels Game Levels
The game levels in Bloxels are also created using the pixel board. Different color blocks signify different objects. Green blocks are terrain, yellow blocks = coins, blue = water, red = hazard block, purple = enemy, orange = exploding block, white = story block, pink = power-up.
With a 13 x 13 grid, it would seem difficult to make a very interesting level. But one grid makes up 1 of up to 169 rooms that forms a level, so a level can be very big if the creator is ambitious.
The Bloxels Builder app does a great job of walking the user through the different aspects of the game creation. Along with the app, the Bloxels website and videos really helps users to learn how to use the product, provides inspiring examples, and gives the kids a way to show off their creations.
Overall I think this is an excellent toy for kids who love to create. I knew this would connect with our son who spends hours drawing and already loves games like Super Mario Maker and Minecraft where he has lots of creative freedom.
The Positive:
Very engaging for a STEM toy. It didn't take any convincing for my son to get started.
Lots of playability. It takes time to create cool characters and big levels. I'm impressed at the work ethic my son is showing – he's fully engaged.
Lots of community. Bloxels has a very active Facebook page where they post weekly videos. There is even a contest next month and the winner gets an all-expense paid trip to the Game Developers Conference in San Francisco. When I told my son about this, he got pretty excited!
Potential Improvements:
The physical product is great, but the initial experience with the app can be a little confusing. We found the videos are very helpful in this regard, so our advice is watch one of the intro videos before jumping right in.
The top complaint I have seen online is the difficulty capturing pictures of the game board. We didn't experience much of an issue here. The trick is to make sure there is good lighting and make sure the picture is a straight shot, not from an angle.
I expect the Bloxels app to evolve over time since it is regularly update. Overall, we are very happy with the experience our 11 year old is getting out of the toy and the fact that he is learning about video game design.
Want to keep up with the latest projects and resources from Teach Kids Engineering? You can subscribe to the page and follow us on Facebook, Youtube, and Pinterest.