Looking for that perfect STEM gift to inspire learning? We've researched and compiled a list of some of our favorite STEM gifts for 2017.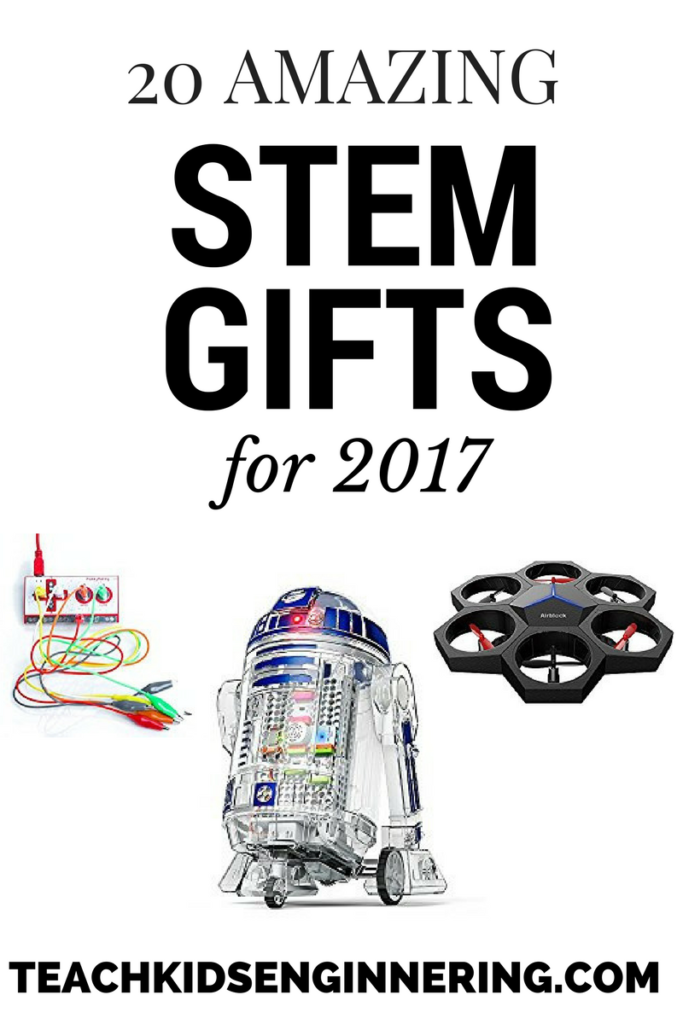 Makey Makey
Makey Makey is an invention kit created by 2 graduate students at MIT. Create a game controller from play-dough, make a piano from bananas, draw your own touch pad.
Star Wars Droid Inventor Kit
Little bits makes some fantastic products, and this is no exception. This robotic kit allows you build build and program an R2-D2 type robot that is just in time for the new Star Wars release.
Cozmo
We've played with a few different robots that help introduce kids to simple coding. Last Christmas, my youngest really enjoyed her new Ozobot coding robot. Cozmo is the coolest new programmable robot with a ton of personality. Cozmo teaches kids great programming concepts and feels like something right out of a Pixar movie.
Tinker Crate
Our kids received a monthly subscription to Tinker Crate early this year from the grandparents. I have been really impressed with the quality of the projects and how the kids are able to work through each of the project on their own. The projects are very creative and engaging.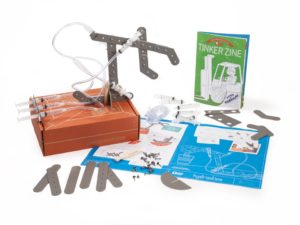 Magformers Challenger Set
Our kids were introduced to Magformers at a young age and they have continued to get many years of use from them. Magnetic shapes that quickly lock together making it very easy to jump right in and start building.
Ivy Cube Puzzle
Looking for something a little easier than an Rubik's cube that is still fun and challenging for kids? The Ivy Cube Puzzle from D-FantiX doesn't require all of the algorithms and can be solved intuitively.
Airblock Starter Drone
Airblock: The Modular and Programmable Starter Drone
The idea for the Airblock starter drone is very cool. Magnetic attachments allow for different configurations. Graphical programming software helps kids to learn programming and to creatively configure the drone.
K'NEX Thrill Rides
K'NEX Thrill Rides – Web Weaver Roller Coaster Building Set
I have a son who loves roller coasters. And 3 other kids who do not. Here's a fun kit that I think all of the kids can enjoy while feeling safe.
Some of our Old Favorites
If you see many of the projects we have posted about on our site, you know we have a few favorite STEM toys that we get a ton of use out of.
LEGO Mindstorms EV3
This is by far our most used STEM toy around our house. We've created many fun projects this past year – a Dancing Robot, an Indiana Jones inspired Booby Trap, a Music Box, a Basketball Player Robot, and a Speedcuber Alarm Clock. There are so many amazing projects you can download from other users in addition to the great projects from LEGO.
In our experience, there is no better product out there for teaching kids about robotics.
AmScope Compound Microscope
This was a Christmas gift our kids received last year and we had so much fun with it right away. It's amazing the life you can see in some standing water. Have you ever looked at dog hairs, tooth plaque, or guitar strings under a microscope? Check out our post 10 Cool Things to Look at Under a Microscope.
SpeedCube
We have really enjoyed getting into cubing as a family. Cubing is a great way to teach algorithms to kids and the more algorithms they learn, the faster they get. My daughter is solving hers in about 30 seconds now and I finally taught myself to solve one blindfolded (see my guide on How to Solve a Rubik's Cube Blindfolded).
The Moyu Aolong 2 is a favorite among many of the world's best speedcubers.
Snap Circuits
Snap Circuits makes the best kits for learning about electrical circuits. These sets come with hundreds of projects and the instructions are very easy to follow. We have the 300 piece set and have really enjoyed it. Like with many advanced STEM toys, Snap Circuits is something you want to sit down and work on together with the kids since it can be a little confusing to debug if they run into problems.
We hope you enjoyed our STEM gift list and have found some good ideas. Do you have ideas that you think would be great additions to the list? Feel free to comment and let us know!
Want to keep up with the latest projects and resources from Teach Kids Engineering? You can subscribe to the page and follow us on Facebook, Youtube, and Pinterest.